Serving Opportunities
Some ministries involve training and/or covenant membersip requirements before serving. Please contact our staff for more info!
Kidspring (Children's Ministry)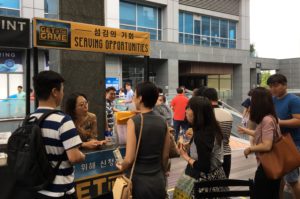 Volunteers are needed for our three Kidspring worship services. Volunteers will register our kids as services begin or help teach Bible Study classes by grades. Parents are highly encouraged to take an active role in the spiritual development of their children.
Times: 10am / 12pm / 2pm
Rise (Youth Ministry)
Volunteers will assist the Education Pastor during services and fellowship meetings. Volunteers will also serve as teachers, teaching Bible study, leading group discussions, and caring for our middle school and high school students (grades 6-12).
Times: 12pm / 2pm
Cafe Volunteers
We are always open to in-between service help, especially in our cafe and kitchen areas. Duties include refilling/restocking cups, wiping any spills near our drink dispensers, picking up trash, and cleaning out coffee pots after our last service.
Times: Before 12pm / After 3:30pm
Shuttle Van Ministry
We need drivers who can drop-off and pick-up people on Sunday before our 12pm and 2pm services. Drivers must have a Korea Class-1 license, be at least 25 yrs of age, and have a clean driving record.
Welcoming Team
Our goal is to help every newcomer, visitor, and member to feel welcomed as they enter our church. Duties include handing out Sunday programs, guiding newcomers to the right locations, and assisting people to seats during the beginning parts of worship.
Times: 9:45am / 11:45am / 1:45pm
Worship & Praise + Audio/Visual Team
Our worship bands are committed to bring honor and glory to our Lord Jesus Christ through worship. The lively and contemporary style praise band leads on a week to week basis. They also perform at special events and services. Our audio and visual team loves the use of technology! They collaborate and work closely in relation to our Worship Team. We believe the use of sound, video, lighting, graphics, and climate control are all factors that can enhance worship. Training will be given!
Times: 8:30am / 10am / 12pm / 2pm
Production Team
This team works together to produce weekly announcement videos for worship services. There are also ministry events/promos, conferences, and lots of various preparations that occur throughout the weeks. Experience in photography, sound/mixing, and video editing is a plus – but training will be given for all areas!
Aaron & Hur Prayer
Aaron and Hur Prayer volunteers lift up our pastor as he preaches every Sunday while in their seats. During all of our services, there are two people praying for the pastor as he preaches. Note: This is a separate ministry from our IPT (Intercessory Prayer Team).